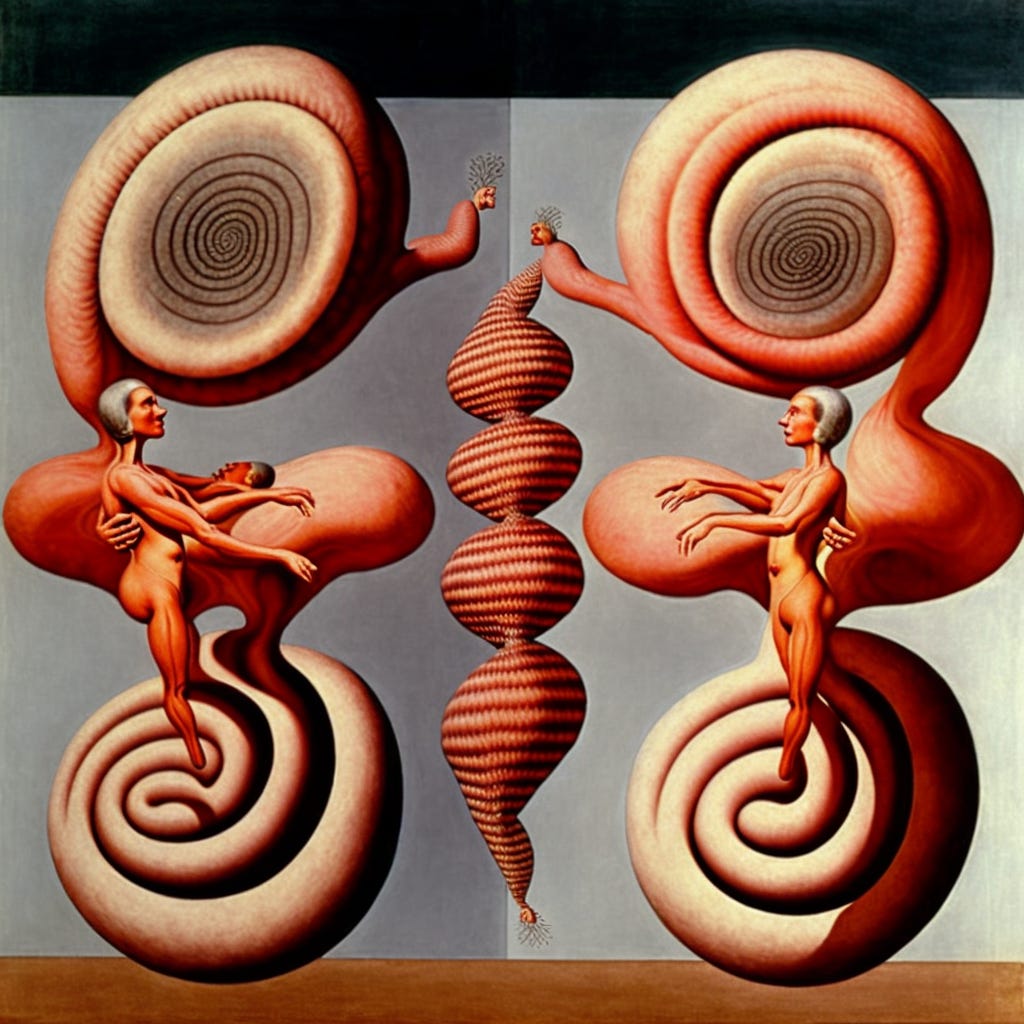 Hi all,
Since we lost 'revue', the format of these newsletters has changed, but it's still an attempt (with varied amounts of time and editorial help from Amber Griffiths, consultant management trainee) to share what I've written, my events, and interesting updates from my explorations of systems | cybernetics | complexity and public | service | transformation – and other stuff of interest, including deep history, ludic interludes, social justice, and really anything that seems to me to be connected.
Feedback on format, content, and what would add value and fun is most welcome.
Link collection:
---
My weekly blog post: https://chosen-path.org/2023/02/01/new-philosophy-of-business/
---
Has anyone come across / developed a systems map that goes into the causes and solutions for the biodiversity crisis (or any variation of that topic)?
---
Systems and Complexity in Organisation (SCiO) events update for early 2023 – Belgium, DACH, Espana, Nederland, UK (with George Monbiot), Ireland – and professional development including facilitation skills for systems practice
---
Systemic Design as Born from the Berkeley Bubble Matrix – Nelson (2022)
---
N. Katherine Hayles – Detoxifying Cybernetics:From Homeostasis to Autopoiesis and Beyond – YouTube
---
Reflections on possibilities for systemic design – Cheryl May
---
Great Minds on Learning: GMoLS4E19 AI Learning with Donald Clark
---
Gerald Midgley – Nov 2022 – SCiO Open Event – YouTube – Moving Beyond Value Conflicts: Systems Thinking in Action
---
New Books Network Podcast | Peter Jones and Kristel van Ael, "Design Journeys Through Complex Systems"
---
On the Ambiguities in Complexity:
---
Metascience – seeking transdisciplinary-like breakthroughs through ethnography and sociology of science
---
The Problem With "Internal Customers": https://mastodon.social/@antlerboy/109796940927273692
---
MIT study finds huge carbon cost to self-driving cars: https://mastodon.social/@antlerboy/109796115172677453
---
SCiO UK Virtual Open Meeting – May 2023, with George Monbiot | SCiO: https://mastodon.social/@antlerboy/109795080963610078
---
Systems and Complexity in Organisation (SCiO) events update for early 2023 – Belgium, DACH, Espana, Nederland, UK (with George Monbiot), Ireland – and professional development including facilitation skills for systems practice: https://mastodon.social/@antlerboy/109794109763164183
---
LLMs and hyper-orality: https://mastodon.social/@antlerboy/109791278672334558
---
Last Chance! Contract Management course launching February 2023 – PSTA: https://mastodon.social/@antlerboy/109790934003368163
---
Systemic Design as Born from the Berkeley Bubble Matrix – Nelson (2022): https://mastodon.social/@antlerboy/109790452841405656
---
Khan condemns system of 'begging' for levelling up cash: https://mastodon.social/@antlerboy/109788447439078082
---
'Hidden' unemployment rates reveal deepening divides: https://mastodon.social/@antlerboy/109785616299482775
---
Council calls for review into missing children: https://mastodon.social/@antlerboy/109784790578303504
---
N. Katherine Hayles – Detoxifying Cybernetics:From Homeostasis to Autopoiesis and Beyond – YouTube: https://mastodon.social/@antlerboy/109780875722411199
---
Reflections on possibilities for systemic design – Cheryl May: https://mastodon.social/@antlerboy/109780179965603878
---
Great Minds on Learning: https://mastodon.social/@antlerboy/109779812905525867
---
Council's £100m fight against potholes pays off: https://mastodon.social/@antlerboy/109779128281214363
---
Practising adaptive leadership: https://mastodon.social/@antlerboy/109775238715413454
---
Some philosophical razors: https://mastodon.social/@antlerboy/109773465963461518
---
Fast streamers vote to strike for first time ever over stagnant pay: https://mastodon.social/@antlerboy/109772431776047936
---
Investing in the collective good can guide us out of our state of anxiety – Social Investment Business: https://mastodon.social/@antlerboy/109771460499889295
---
Why the Future Leaders Scheme (FLS) fails — and what to do about it: https://mastodon.social/@antlerboy/109769556214450832
---
How can we develop transformative tools for thought?https://mastodon.social/@antlerboy/109766769489916668
---
Davison: levelling up exclusion 'best route to go down': https://mastodon.social/@antlerboy/109765798190126849
---
Remote work is the best thing to happen to families in decades: https://mastodon.social/@antlerboy/109762141305239767
---
Thinking Beyond the Brain: Why Neuroplasticity is Overhyped: https://mastodon.social/@antlerboy/109761107185673028